---
Every Saturday and Sunday, we fire up the irons and make some of the best Waffles, Frittatas and Huevos Rancheros this side of Bankview.
Wash it down with a $5 Mimosa and you have yourself a great start to your day.
All the while, enjoy the musings of great local and not so local live music.
Admission by donation
Sunlight is a joint music and art show presentation by Tricia Edwards, solo piano and Allie Unger, art.
Tricia will be releasing her newest solo piano recording and Allie will be displaying and selling her original art.
The art and music we will be sharing today is a product of the last few years and expresses the comfort and solace we both found in pursuing our artistic endeavours during that time of uncertainty and isolation.
As mother and daughter, our different but parallel journeys of artistic expression have been a bond between us, and we look forward to sharing it with all of you.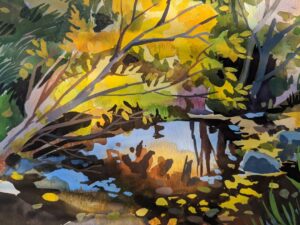 Allie Unger is an illustrator living in Nanaimo, BC. She is inspired by the intricate shapes, colours and light found in nature. She enjoys making art outside, and capturing transient moments with gouache paint. When she's not painting, Allie can be found birdwatching or looking for critters in tidepools. She can be reached at [email protected].
https://www.instagram.com/byallieunger/
Tricia Edwards musical journey has taken many diverse paths. With formative years spent training and performing in the classical realm, to more recent years playing in the jazz idiom, to her current passion in exploring the world of latin music, Tricia seeks to incorporate all of these idioms into her musical expression. Tricia maintains a full schedule based in Calgary, working as solo artist, as leader of a jazz trio/ quartet, as a classical collaborative pianist and as the bandleader of the salsa band "Klave."
https://www.instagram.com/tricialedwards/ 
The LIVEstream!
[membership]
[/membership]
[membership level="0″]
LOG IN or Subscribe to watch
[/membership]